As we've gotten much better acquainted with our homes this past year, our relationships with our own spaces have evolved. Apartments and houses served different purposes this year than they had in the past, whether that be the need for a home office, a family-friendly living area, or a functional outdoor space. Once needs were met, it was time to indulge our aesthetic proclivities.
"I think the biggest trend [of 2021] is the increased interest in interiors in general," explains interior designer Kate Lester. "People are more willing to invest and spend money in their homes after realizing that they are the ultimate safe space. We are realizing how important it is to put in that additional effort into your space so that it can become your dream environment."
What the experts saw was less straightforward aesthetic trends and more so larger all-encompassing movements based on an idea or need, like incorporating family heirlooms into decor or leaning into more natural materials. "Clients want their homes to be simplistic and timeless, like a sanctuary," reiterates Eilyn Jimenez, interior designer, creative director, and founder of Sire Design. With all that is going on in the world, a home should be an escape—a place that provides a sense of calm." Below, we've asked Jimenez and Lester to divulge the most prevalent interior design trends for you to experiment with.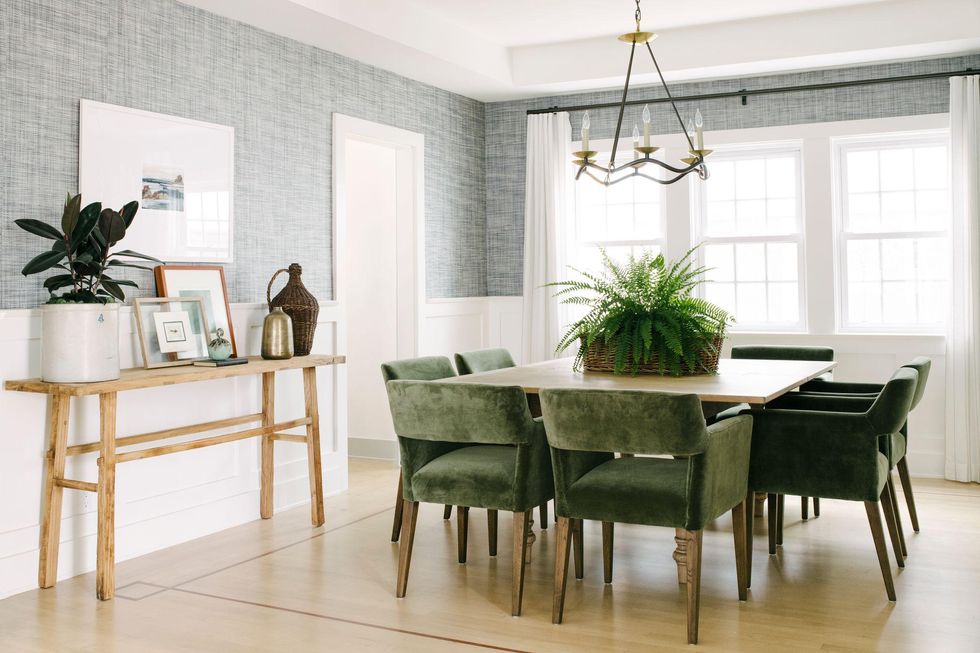 Photo: Courtesy of Kate Lester Interiors
"I have been noticing a lot of different shades of blue. A number of clients have been choosing navy options when they might normally choose a neutral option like a grey or cream. I have found myself using shades of blues that have more green undertones, which I find a refreshing change." —Kate Lester
"Colors that we have been inspired by lately and are actually using in projects are green tones like emerald, olive, seafoam, and hunter. We always love black and white and have been using both for the past ten years—we know it's here to stay! We've also been loving taupes, bone tones, and muted greys." —Eilyn Jimenez
Sentimental Shopping + Quality Over Quantity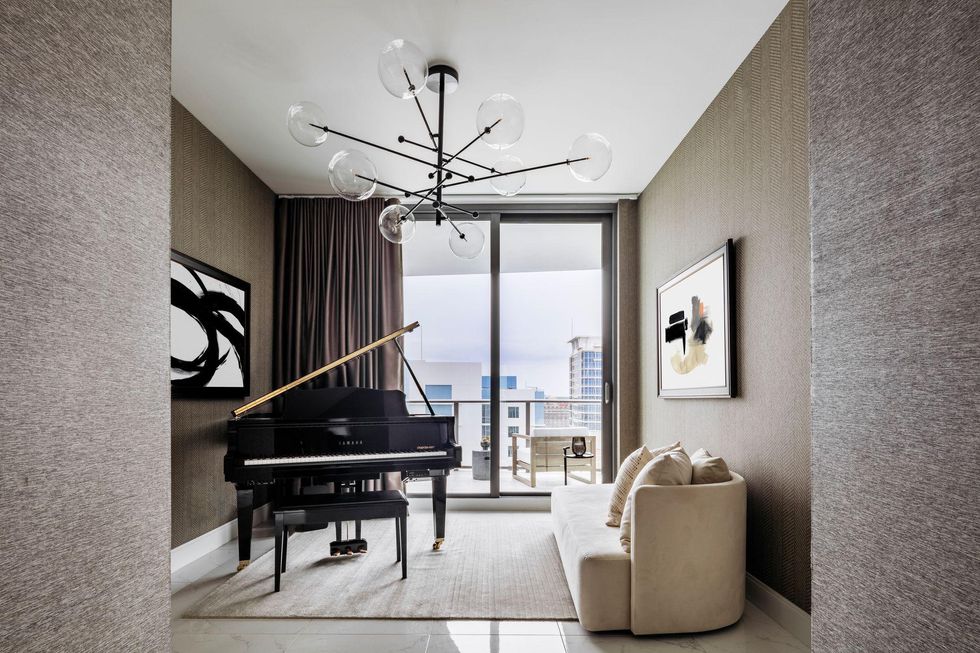 Photo: Courtesy of Sire Design
"Vintage pieces, found items, and family heirlooms are definitely trending. Now more than ever, homeowners want furnishings and accessories with character and pieces that start conversations. They want their homes filled with pieces that have a history behind them. Rather than fast furniture, like Ikea, clients are increasingly seeking to purchase pieces of quality that can evolve with them and their homes. Younger clients are also increasingly sustainability-focused and want an alternative to mass-produced or catalog-purchased items. They prefer to have pieces that reflect their character and grow with them." —Jimenez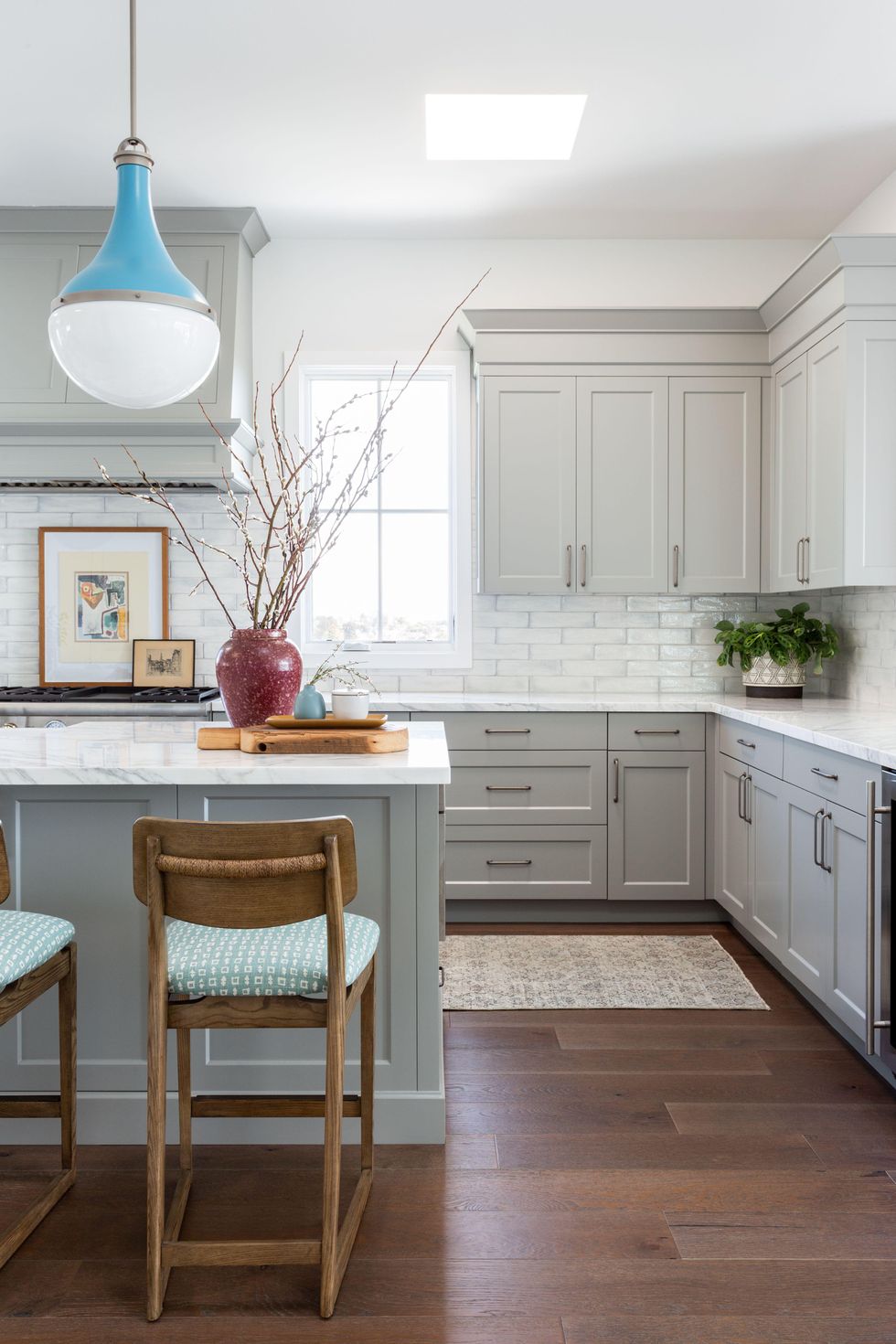 Photo: Courtesy of Kate Lester Interiors
"I think people are becoming more adventurous with their lighting choices, really taking advantage of them as a statement design element in a room. In the past people deferred more toward can lighting and recessed lighting, but now we are seeing a number of pendant and hanging lights to anchor rooms." —Lester
Emphasis on Nature + Natural Elements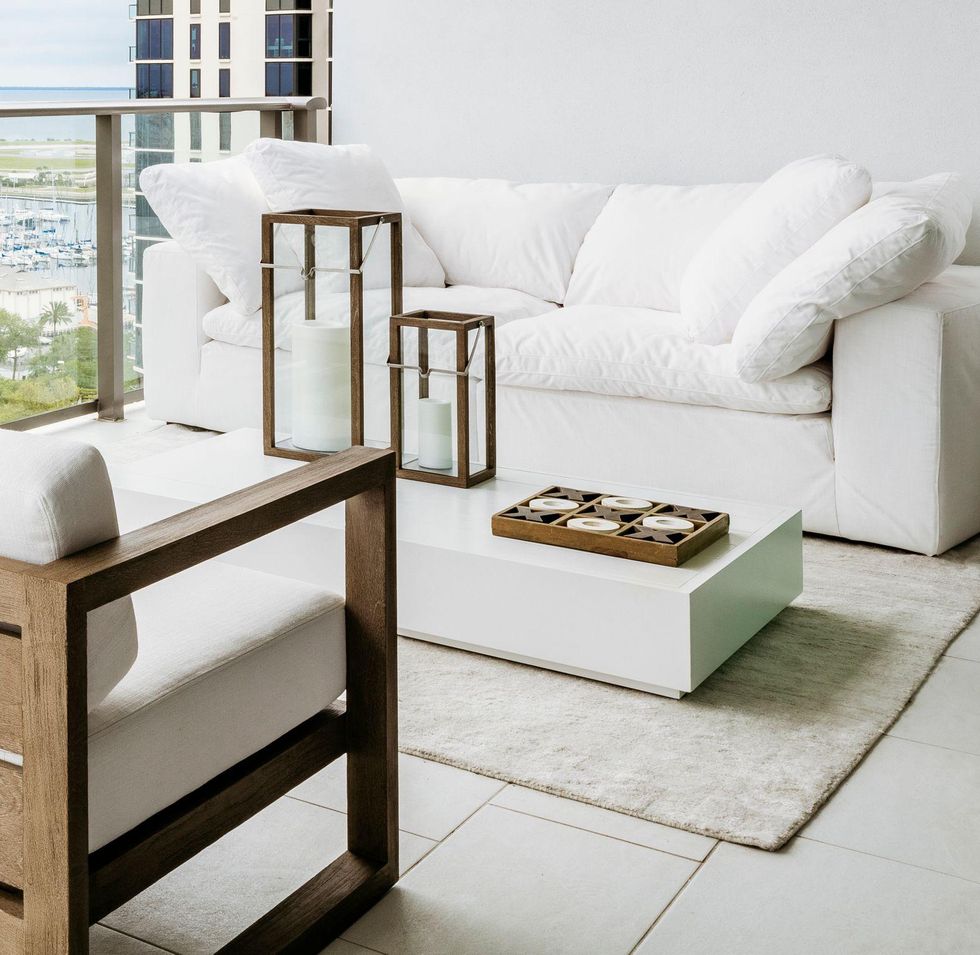 Photo: Courtesy of Sire Design
"A number of my clients are gravitating towards natural fabrications and finishings, specifically rattan, caning, and textiles that are a more woven ground. Another trend is an increased use of light, natural-colored wood, moving away from darker stained pieces." —Lester
"Being at home has also driven the trend of connecting to nature through design. This can be seen in creating fluidity between indoor and outdoor spaces, as well as bringing in biophilic elements into the interior design." —Jimenez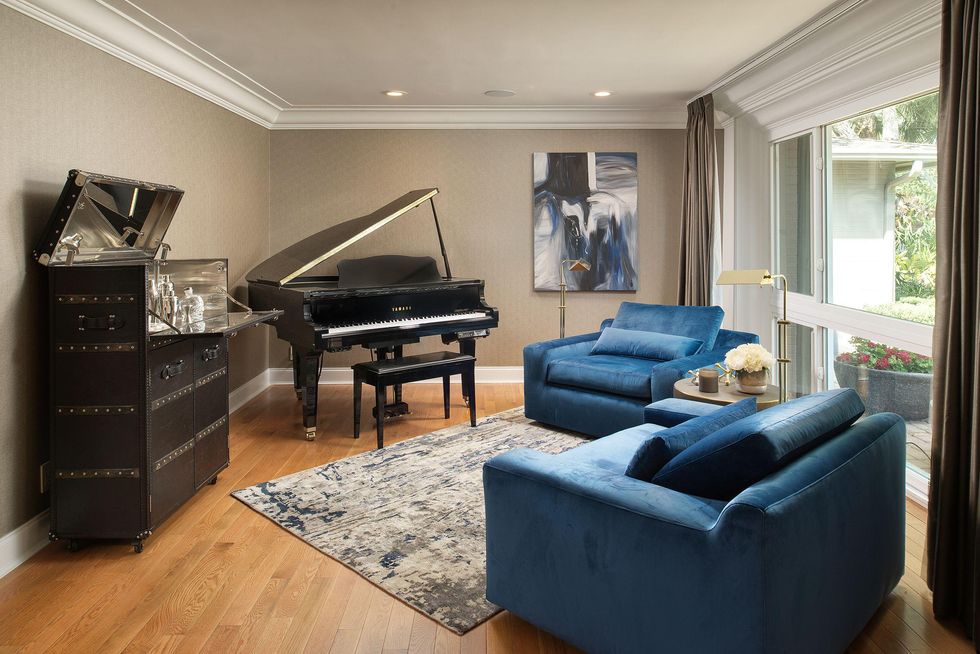 Photo: Courtesy of Sire Design
"I see people bringing back design trends and styles from the '20s, '30s, '40s, and '50s. We are learning to look at the past styles and value what made them so uncanny. Interior design and fashion have always been close friends when it comes to what is 'in.' I also love a minimalistic and aged style—think Hamptons meets Ralph Lauren and Calvin Klein. Linens, natural oak tones, layers of texture, and raw materials. Where old meets new. We personally are introducing this trend into our current projects." —Jimenez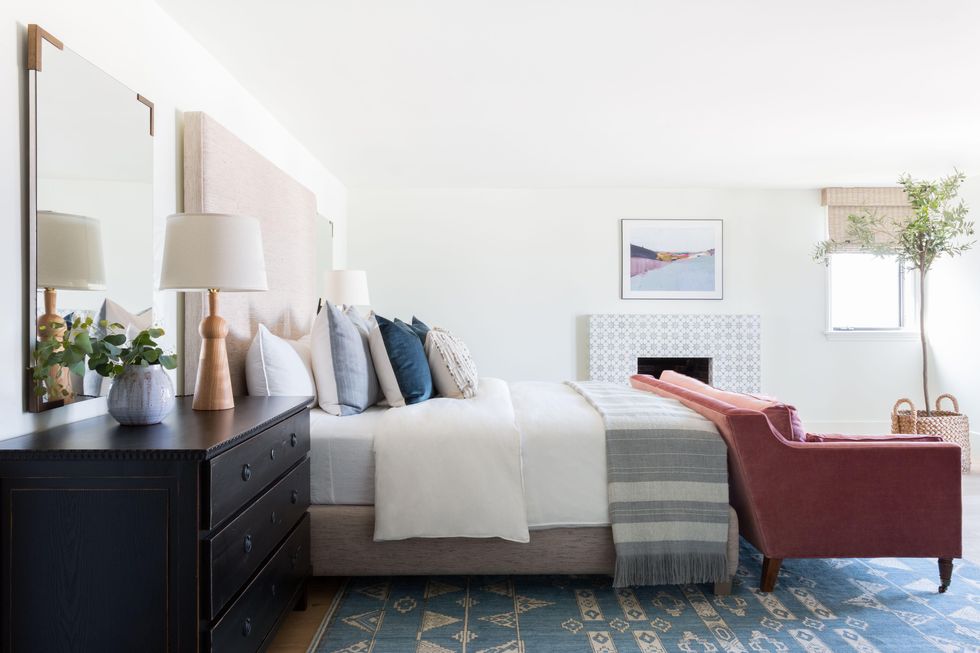 Photo: Courtesy of Kate Lester Interiors
"I always want a space to feel inviting and warm, especially in the fall. You can do that through adding in additional pillows to make sure every seat in the house is comfortable or selecting a warm wool or cotton-blend throw on the end of a couch or on an accent chair. These extra elements of texture and dimension can make a real impact on how a room is enjoyed!" —Lester
Beyond the Traditional Open Floor Plan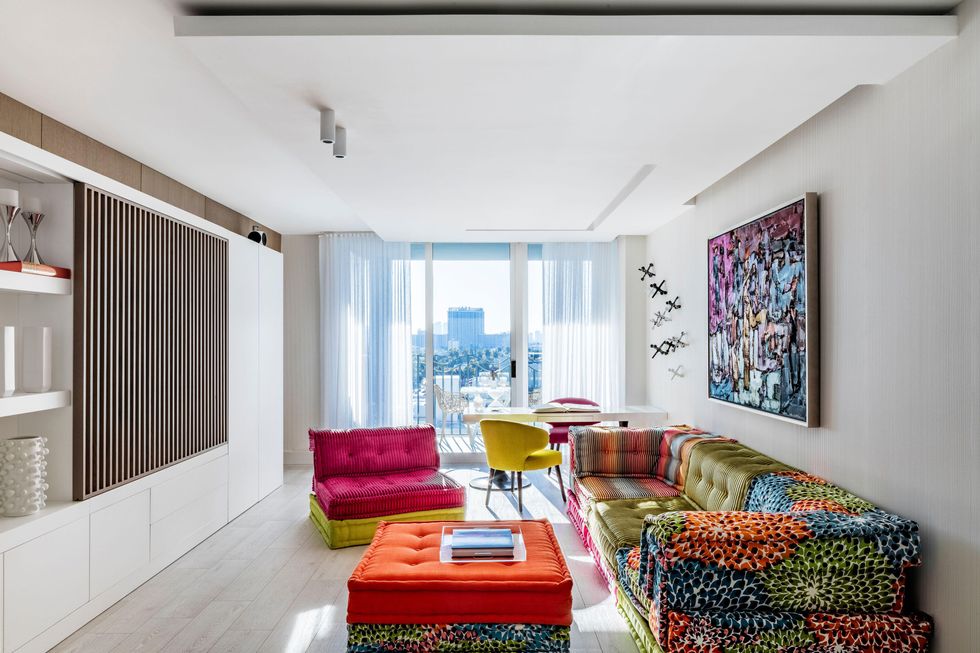 Photo: Courtesy of Sire Design
"The idea of open-concept is becoming something of the past. Clients want to have spaces more separated and tailored to their use, rather than large open spaces where furniture floats. As our clients pay more attention to the way they utilize spaces, the thought of having a room 'just because' isn't what they are looking for anymore. For example, one client wanted to turn their living room into a bar and lounge space because they like to entertain and no longer have the need for a second living room. We've also had recent requests for more home offices and gyms instead of guest bedrooms. The pandemic has made people more practical—realizing they will use these kinds of spaces more." —Jimenez
window.REBELMOUSE_ACTIVE_TASKS_QUEUE.push(function(){
window.REBELMOUSE_STDLIB.loadExternalScript("https://htlbid.com/v3/coveteur.com/htlbid.js", function() {
});
});
window.REBELMOUSE_ACTIVE_TASKS_QUEUE.push(function(){
!function(f,b,e,v,n,t,s){if(f.fbq)return;n=f.fbq=function(){n.callMethod?n.callMethod.apply(n,arguments):n.queue.push(arguments)};if(!f._fbq)f._fbq=n;n.push=n;n.loaded=!0;n.version='2.0';n.queue=[];t=b.createElement(e);t.async=!0;t.src=v;s=b.getElementsByTagName(e)[0];s.parentNode.insertBefore(t,s)}(window, document,'script','https://connect.facebook.net/en_US/fbevents.js');fbq('init', '1248680838922690');fbq('track', 'PageView');
});