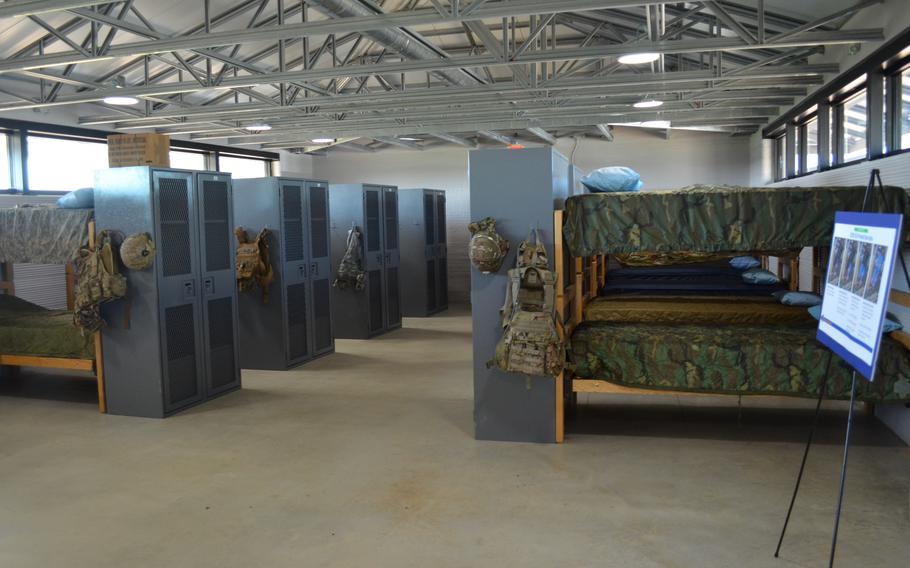 CAMP SWIFT, Texas — Texas National Guard members will be the first in the military to sleep in barracks constructed through 3D printing at a training base near Bastrop.
The 3,800-square-foot building was constructed in less than a year at one-third of the cost of traditional construction barracks, and it will soon house up 72 Guard members at a time, said Maj. Gen. Tracy Norris, adjutant general of the Texas Military Department.
"It's rapid deployment, flexibility, affordability and sustainability," she said during a ribbon-cutting ceremony Monday morning, speaking alongside Sen. John Cornyn, R-Texas, and Evan Loomis, the co-founder of ICON, the company that constructed the barracks.
Neither the National Guard nor ICON would say what it cost to build the barracks. However, the Guard said Monday that a 7,200-square-foot barracks built with traditional construction methods at Camp Bowie cost about $3 million to design, collect bids and build.
A 3D printer uses a digital design to deposit thin layers of material over and over until it forms a physical object. In this case, a massive printer deposited layers and layers of concrete to create walls on a concrete slab that were later filled with insulation to form the barracks building.
The bay-style structure at Camp Swift, complete with communal bathrooms and showers, bore the horizontal lines created by the massive machine that methodically printed the building between Dec. 10 and April 2. ICON topped the structure with a roof in May, and officials claimed it is the largest 3D-printed structure in North America.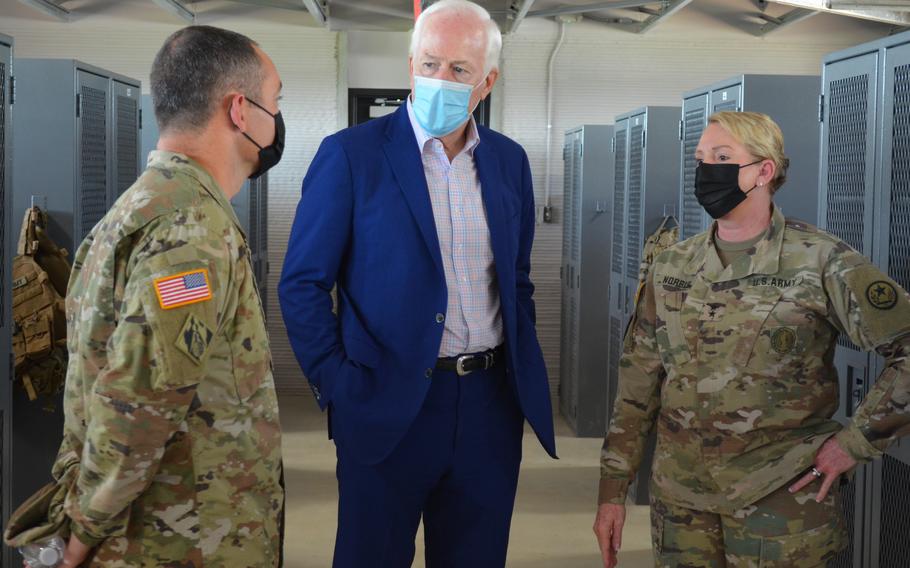 "Giving our soldiers a safe and secure place to lay their heads at night is part of military readiness," Cornyn said. "We've got some old stuff, and we need to replace it with newer, more modern and more efficient facilities. This technology that ICON has demonstrated here will provide our military with the ability to quickly build resilient and energy efficient structures, while saving taxpayer money."
The senator said he would like to see how the technology could evolve to build larger facilities and potentially long-term housing on military bases where the facilities are outdated or overcrowded.
The new barracks at Camp Swift will be used for troops visiting the base for training.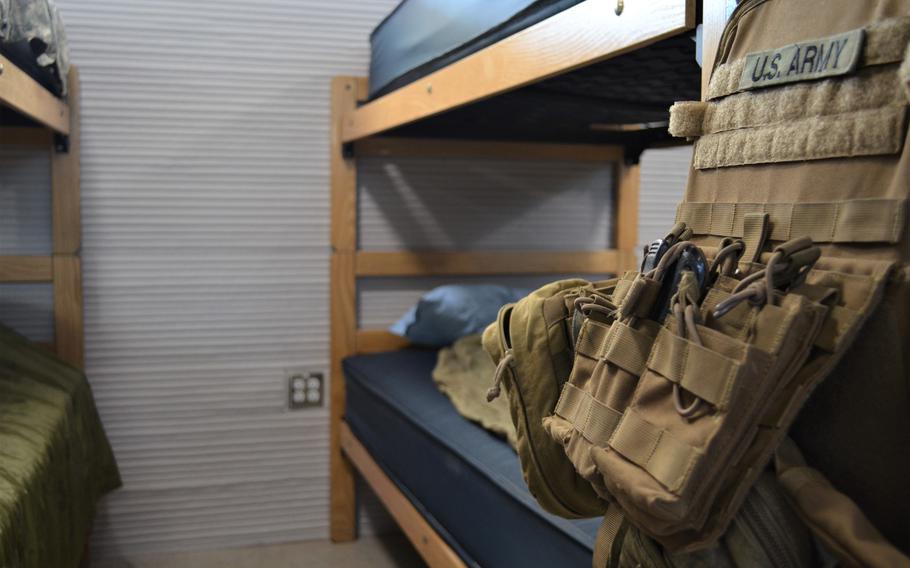 The construction materials and design of the building make it much more capable of withstanding significant weather and less likely to succumb to some of the conditions seen in traditional barracks buildings, such as mold, Loomis said.
"One of the wonderful opportunities that you're given when you design something in the digital world, and you deliver it with technology, is you can control the dimensions, you can control the materials, you can control the internal walls and structures," he said. "A lot of the issues that are associated with mold or water intrusion or poor air quality is just bad design. When you can control the design digitally, you can deliver a superior structure."
Texas National Guard plans to build more 3D-printed barracks at Camp Swift, Camp Bowie, Camp Maxey and potentially Camp Mabry, where the Guard is headquartered in Austin, Norris said.
Loomis didn't offer an exact lifespan for the building, but he said concrete has been used in construction for thousands of years. The company's oldest building was constructed in 2018. The concrete used for the barracks is ICON's proprietary blend that is adjusted through on-board computers that monitor the weather conditions while printing the structure.