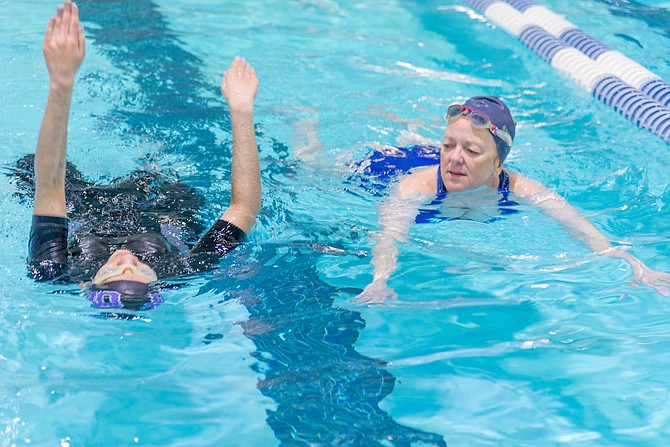 Photo courtesy of the Fairfax County Park Authority
Every Tuesday this summer, Esther Rosenberg has welcomed two elementary school-aged students into her Potomac, Md. home. When they arrive, she offers them a snack and a stack of books. During their visit, Rosenberg reads to them and listens as they read to her. The students are the children of her housekeeper. As a former elementary school teacher, she enjoys sharing her love of reading with them.
"My children are adults now and I'm retired," she said. "I don't want to be a full-time teacher any more, but I love helping children who might not have access to books or a chance to practice reading over the summer."
Opportunities abound for seniors and retirees who want to volunteer their time to a cause they support or an interest they'd like to pursue. From gardening and landscaping to assisting those with disabilities during swimming and water exercise classes, there are a myriad of ways to help others locally.
"Civic engagement not only benefits a community, but certainly brings value to those individuals who offer their service," said Lisa Fikes, of Volunteer Arlington. "For seniors, volunteering is a wonderful way to stay active physically and mentally as well as gain a renewed sense of self and purpose."
Those with green thumb and a passion for gardening, might find pleasure as volunteer gardeners. Local park authorities use volunteers to maintain the grounds of recreational centers. Retirees with an interest in physical fitness or water sports can pursue their passion by serving as an aquatics assistant. Seniors who enjoy golf can volunteer their time to public courses by helping to maintain the course grounds and ensuring the timely start of play.
"Volunteering [allows for] meeting people with similar interests, being social and avoiding isolation," said Tammy Schwab, Education & Outreach Manager for the Fairfax County Park Authority's Resource Management Division. "Volunteers learn new skills which keeps their brain active and contributes to mental health. [It] can also increase physical activity which is so important these days as it is easier and easier to just stay home."
Seniors who want to offer services during a disaster or emergency situation or simply have a desire to improve healthcare in a local community can find fulfillment in serving in one of the area's Medical Reserve Corps (MCR). Arlington, Fairfax and Montgomery counties and the City of Alexandria each have an Medical Reserve Corps. Volunteers receive training in public health, emergency and terrorism response, disaster mental health, CPR and First Aid.
"If you are retired, the Fairfax MRC would greatly benefit from your wealth of wisdom and experience, whether you have worked in the healthcare field or just want to be a positive force in the community," said Paula Rosca, Fairfax MRC Program Coordinator. "By assisting in our vaccination clinics, teaching your neighbors about healthy living, or improving community emergency preparedness, your time will be well spent and much appreciated."
Rosenberg says that she benefits as much from the students she tutors as they do from her. "They bring me so much joy," she said. "They lift my spirits and give me a sense of purpose."
For more information: