Terrazzo flooring is one of the most popular floor types in recent years – the trend has come from almost nowhere to sit alongside marble and parquet as the sought after look of the moment. It has, however, been used for centuries. From humble beginnings, it is now loved by design afficionados for its eco-credentials and it's many fabulous designs and styles.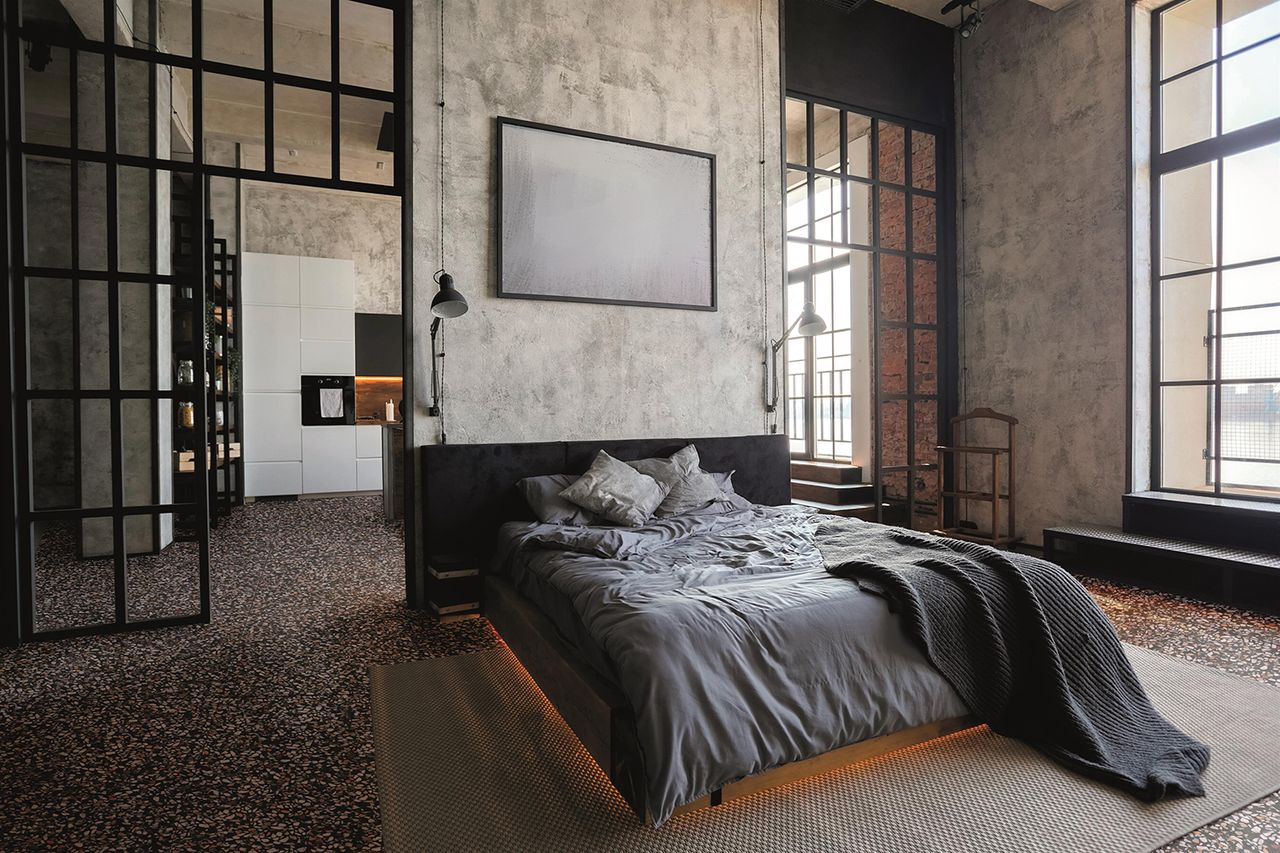 What is terrazzo and terrazzo flooring tiles?
Terrazzo is created by forcing marble segments and binders together under huge presses. There are two types, cement terrazzo which is at it sounds, a combination of cement and marble pieces, and resin terrazzo which is marble pieces combined with resin. Cement terrazzo tiles are limited to marble pieces of up to 25mm and Resin or Congolmerate terrazzo can have marble pieces of up to 150mm because it is much stronger than the cement version.
Terrazzo floor tiles have been around for 500 years and were popular in the 1960's for kitchens and bathrooms. Originating in Italy, terrazzo evolved due to quarry workers using marble chips and leftovers to decorate their own homes. It soon became a much more high-end product thanks to its popularity in Venice and became known as Venetian Terrazzo. Modern production techniques mean it is much more hard-wearing and can be used in a variety of different environments with unique designs. It also comes in many more colours – beige, black, grey, green, red, pink, yellow and white and with hundreds of different combinations of marble chip size. Terrazzo floor tiles are the norm, panels are available, but are obviously a lot more expensive. The recent trend in terrazzo has come from architects looking for ecological materials for sustainable projects – terrazzo is the ultimate eco-friendly, sustainable material. Which has, in turn, inspired designers and homeowners. You can commission your own bespoke terrazzo, made with your choice of colour, chips, chunks or other design ideas such as semi-precious stones, shells, coloured glass – the possibilities with bespoke are endless.
Originally, terrazzo was poured on site, and it's still possible to have a poured terrazzo floor, but the cost and scarcity of experienced practitioners has made it prohibitive. Terrazzo tiles first made their appearance as a dual layered material, combining a surface layer of the stone-cement mix and a base layer of purer cement. This gave the tile performance strength making it suitable for commercial projects, but the weight of the tile also meant it wasn't the easiest material to install, especially in a residential setting. With advances in technology, terrazzo tiles can now be produced in single-layer tile formats – that is, there is one layer of stone mixed with a cement or resin binder, and vacuum technology means that this single layer can be used without the need for any reinforcement. This has also meant that not only can a tile be supplied in really large formats (such as 120cm x 120cm), giving the feeling of a poured terrazzo floor, but it can also be used in residential projects. Single-layer terrazzo tiles are pre-finished at the factory, firstly, they are made in blocks, then cut into slabs and tiles, so it's possible to produce them in many shapes and sizes, and there is no need for specialist technical equipment, terrazzo tiles can be cut and laid as if it were any other natural stone tile.
As terrazzo flooring has grown in popularity, more affordable versions have appeared, mainly porcelain terrazzo tiles, which have a similar look, are hard-wearing and easy to care for, but don't have the depth and unique quality of real terrazzo. They are made by taking a scan of a real terrazzo tile and printing that image onto porcelain. Porcelain terrazzo floor tiles are also less eco-friendly – real terrazzo tiles are made from 80% recycled material whereas porcelain is only 40%. There is nothing that can compete with real terrazzo in terms of durability, sustainability and aesthetic.
What do you need to consider when choosing terrazzo flooring?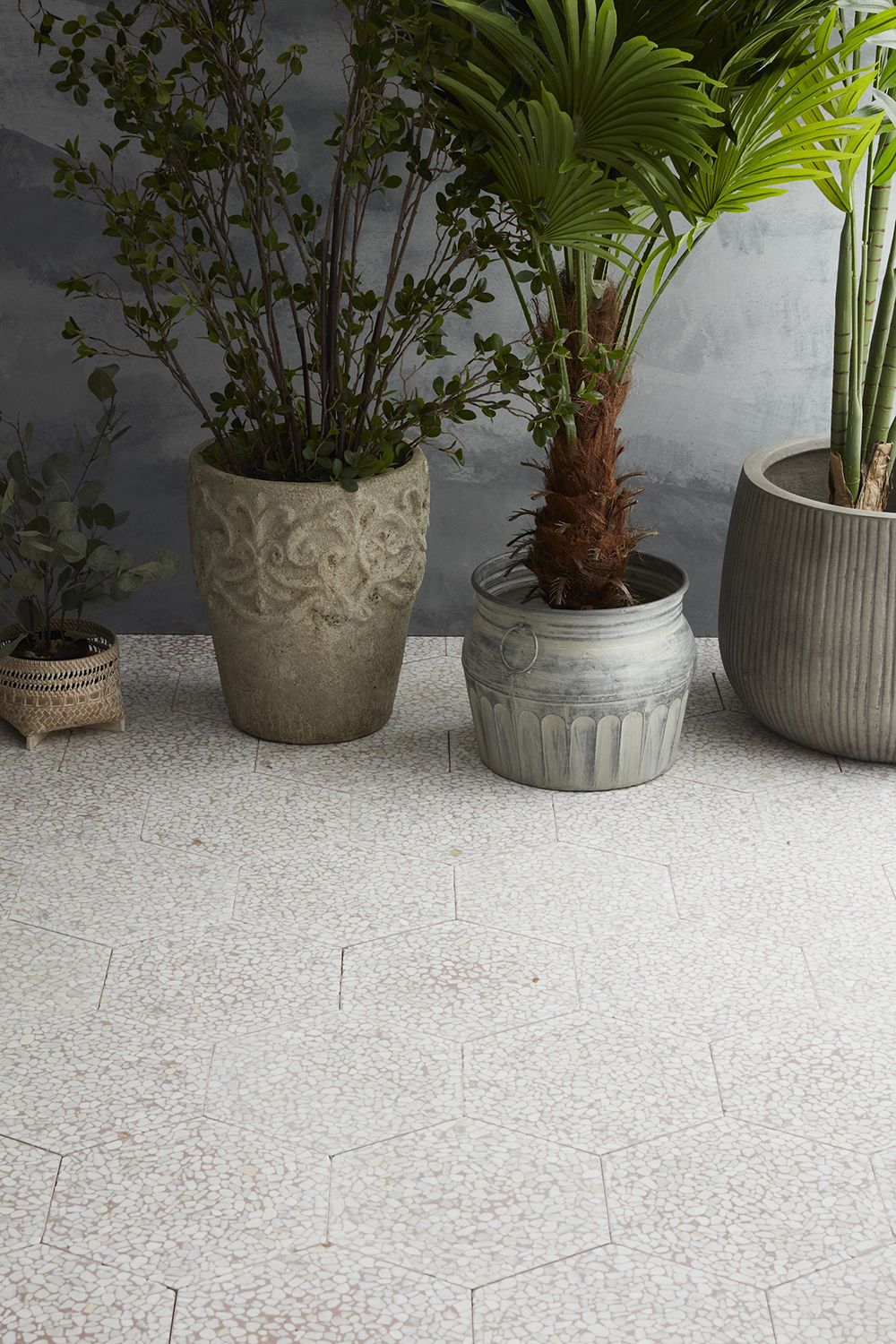 You first need to decide what look you want and the size of the floor. Terrazzo comes in cement or resin format tiles or a poured floor. Each of the options has pros and cons. Poured floors are really only for commercial projects and large areas. Cement terrazzo floor tiles are 30mm to 40mm thick depending on the size of the chippings, so the substrate has to be able to take the weight. Resin terrazzo tiles are only 10mm thick so can be used in more areas including upstairs. Resin floors do not need sealing but it is recommended a sealant is used to assist with maintenance.
Cement terrazzo flooring vs resin terrazzo flooring
Cement terrazzo flooring  is suitable for interior and exterior use
Cement terrazzo flooring gives the impression of a classic surface
Cement terrazzo flooring has a proven longevity 
Cement is often less expensive than resin
Resin terrazzo flooring is most suitable for interior use 
Resin brings bright colors to life
Resin is less prone to cracking and crazing
Resin is great for a thin-set floor
Resin terrazzo flooring usually has a smoother finish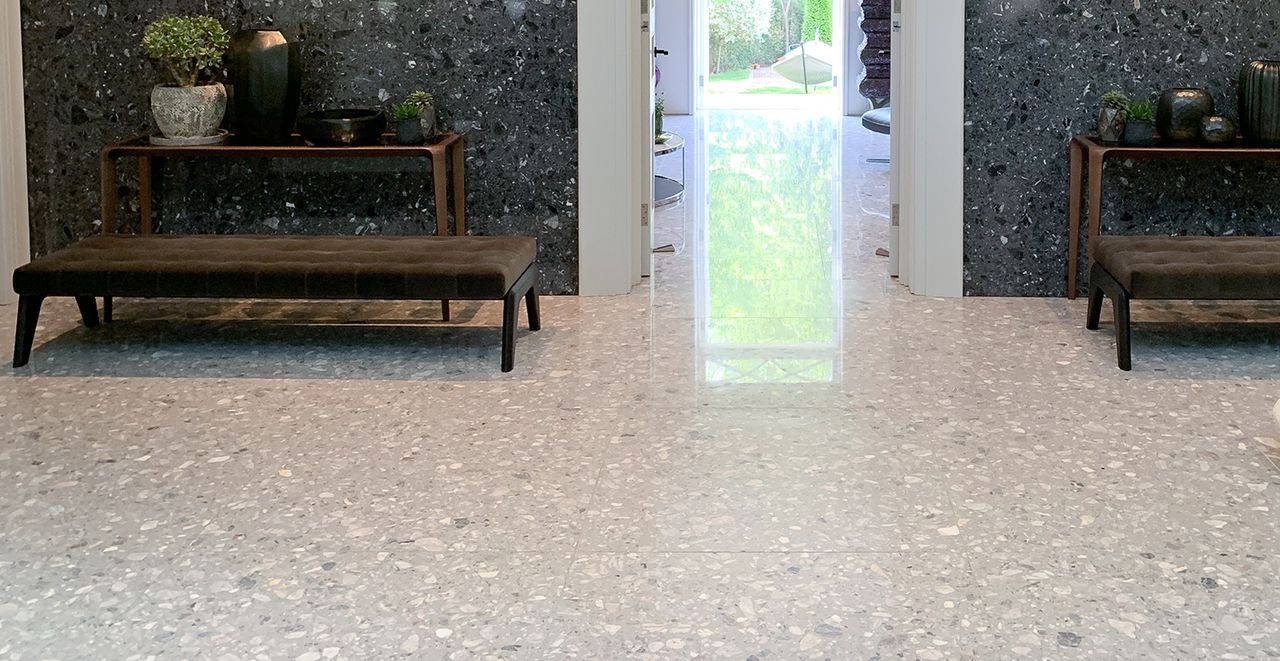 What rooms is terrazzo flooring best for?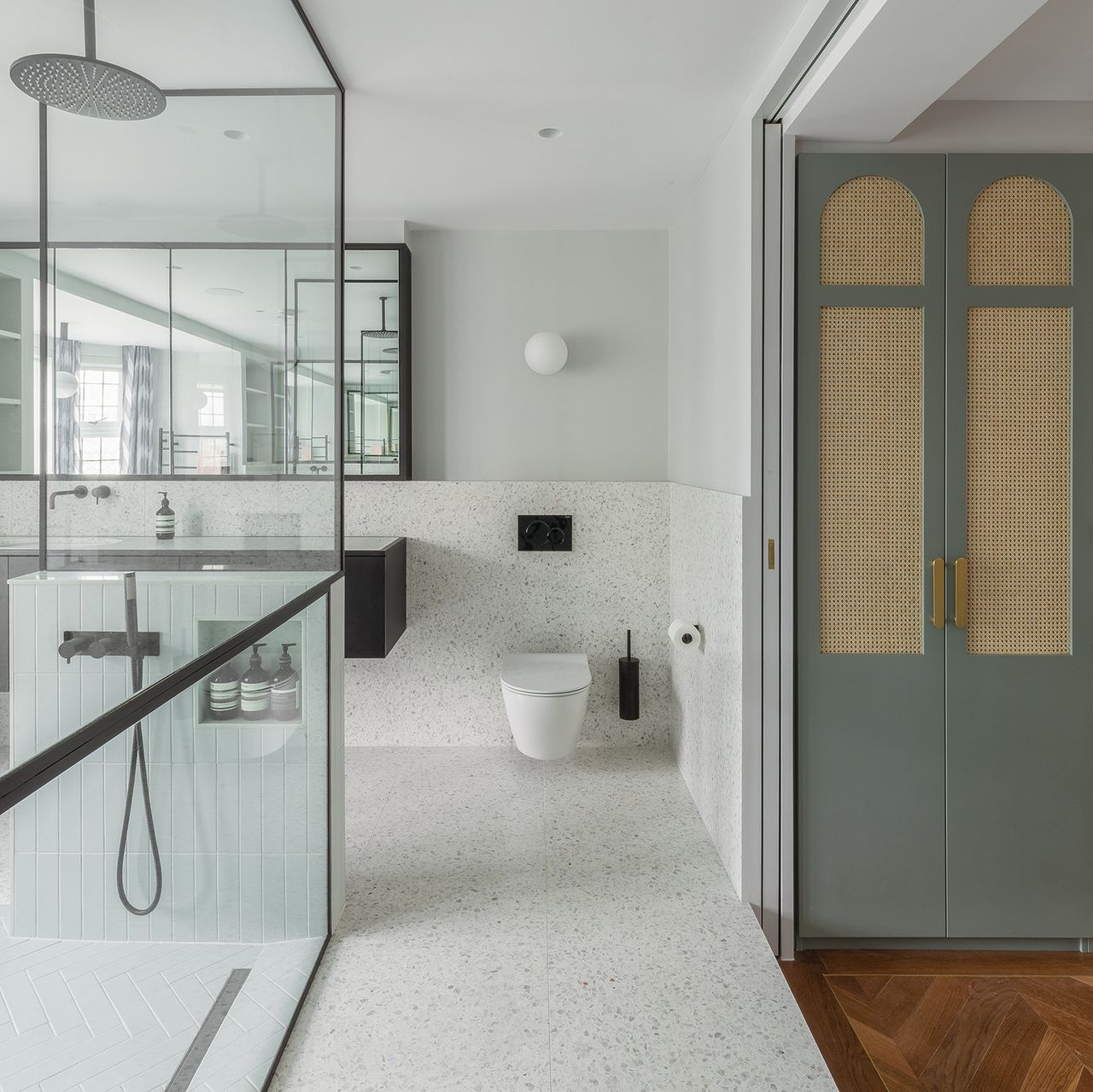 Single layer terrazzo tiles can be used anywhere – hallways, stairs, living rooms, dining rooms, kitchens or bathrooms. Poured floors are only suitable for the ground floor due to the weight. If it's a wet room – a kitchen or bathroom – you will need to consider slip resistance too.  
"Terrazzo flooring is suitable for high traffic areas, hallways, kitchens and living areas" says Simon Errill of LoveTerrazzo. "Terrazzo is ideal for large surface areas and cement terrazzo is great for outdoor areas as it's weatherproof."
How easy is it to install terrazzo flooring?
A good substrate is essential, as it is with any floor and it needs to be level. Poured terrazzo is poured and polished on site, this means that large areas can be installed and there will be few, if any, joins giving it a monolithic appearance, but it will take a while to dry and must be fully dry before polishing. This would usually be a bespoke installation. Terrazzo tiles don't need specialist knowledge to lay, they are much the same as any other tile. Single layer terrazzo comes pre-finished and in honed, brushed, polished and sandblasted finishes, ready for quick fitting, so it can be walked on almost immediately. 
How to clean terrazzo flooring
Cement-based terrazzo, like natural stone, is porous, so it will need to be sealed when it is laid. Care is the same as any other stone – vacuuming, mopping or use a wet and dry cleaner. Mop up spills quickly. General maintenance requires a simple chemical clean, or a gentle scrub with nylon pads. A professional polish will help to keep a high shine. For resin terrazzo floors avoid acid-based cleaners as these can damage the flooring over time. Use a pH-neutral cleaning agent such as Lithofin Easy Care, Lithofin have a range of products for all hard floors. For stubborn stains, use a pad or brush to firmly clean the surface, then rinse with cold water. Real terrazzo floors will need to be re-sealed every 12-18 months.
For any terrazzo try and avoid spills, the worst culprits are ketchup and brown sauce, chilli sauce, red wine, bleach and lemon.  "We recommend certain products to clean terrazzo – assuming it has been properly sealed when installed," says John Rivers of Terrazzo Tiles. "For initial cleaning of a newly installed surface, we would recommend Lithofin Powerclean, diluted 1:10 with water. The surface of the tile should be wiped with the solution, then rinsed well with water and the surface allowed to dry. To protect against staining, we recommend two coats of Lithofin Stainstop MN applied before and after grouting. For regular maintenance, we recommend a squirt of Lithofin Easy Care in a bucket of water – wiping the surface and not rinsing."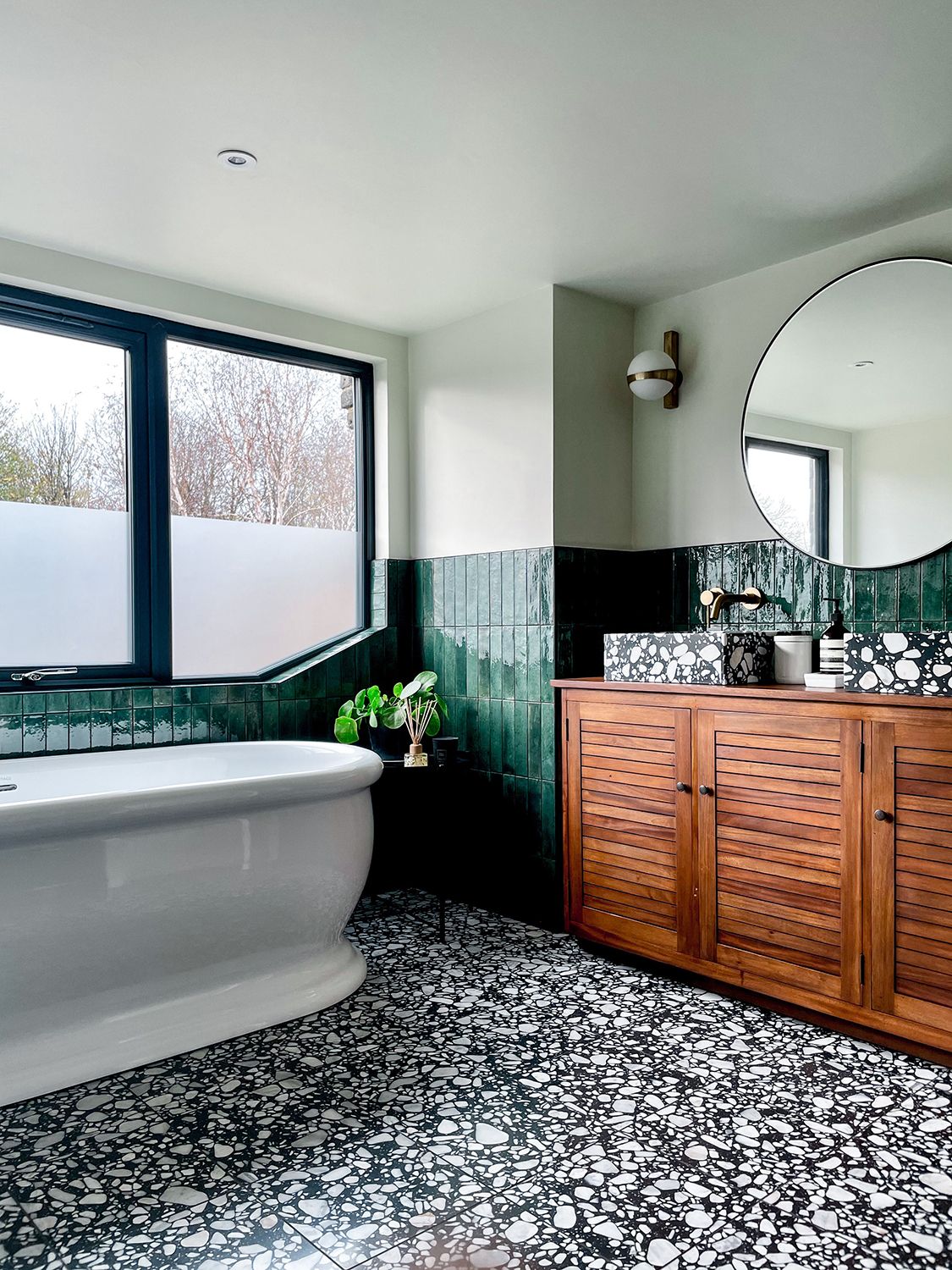 Advice on terrazzo flooring finishes
For poured floors a polished finish looks good, but think about slip resistance.
Most terrazzo floor tiles are a honed or matte finish, but you can have polished, brushed and sandblasted finishes. Honed, brushed and sandblasted are better for wet zones as they give some grip.
How much is a terrazzo tile floor?
There are many different considerations, from simply buying the tiles from a showroom and installing them yourself, to a full poured floor service where a site visit is required. The design you choose will have an impact on cost. For example, a poured floor starts from £400 per m2 (for 10 m2 or more) if the site is in London.  Terrazzo floor tiles start from around £70 per m2. Porcelain terrazzo tiles start from around £25 m2.
How to restore a terrazzo floor
It really depends what state the floor is in to begin with. "If it's in good shape, a professional regrind and repolish will be enough," says John Krause of Diespeker & Co. "If it needs more attention, for example where there are cracks and missing sections, you'll need to bring in an expert to match the existing terrazzo so it's a seamless repair. Once the repairs are done, a full regrind and repolish is needed to bring the floor back to its former glory."