Pittsburg Beautiful is proud to announce the winners for August: East 4th Street Organization Sign Planter, Matt O'Malley; 309 E. 8th, the home of Maria Banuelos; and 720 W. Kansas, the home of Kip and Josie Fentress (owned by Rick Smith).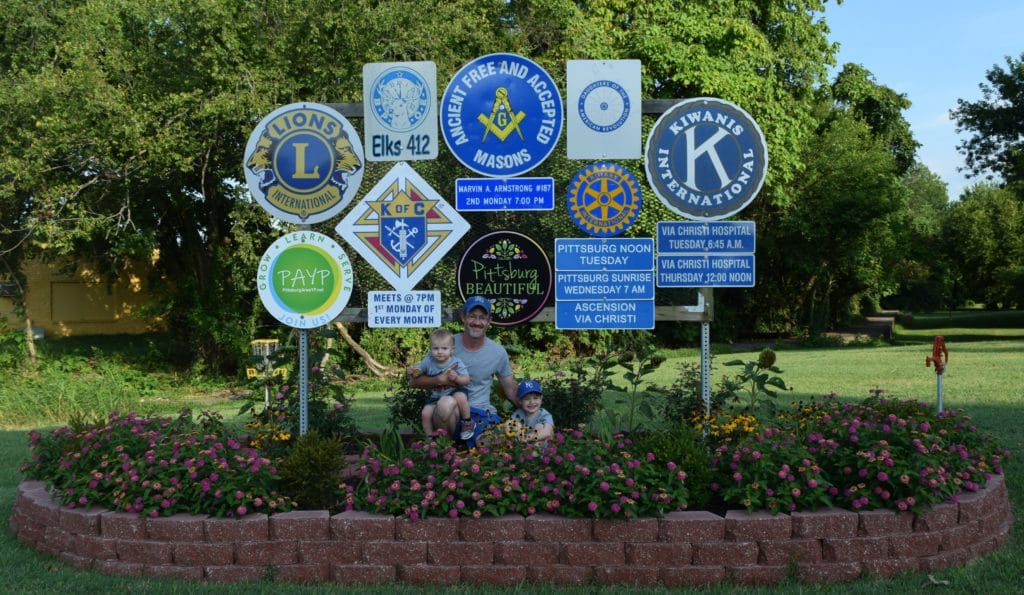 Matt O'Malley and his family built the 4th St. Planter last Spring. His wife, Lacy, and sons, Lincoln and Dylan, supervised and helped when Matt needed a hand. The project took 12 hours to re-work the civic organization signs, prep the site with landscape fabric, gravel, laying the landscaping stones, fill it with garden soil, and plant the flowers. Matt now waters the flower bed twice a week while Lincoln enjoys throwing the Frisbee at the nearby disc golf basket.
Matt loves his home town and is proud to play a small part in beautifying it. "It doesn't take too much effort to look after the area of town you live, work, play, or pray in. We can all do simple things like picking up litter, pulling weeds, and trimming or even planting flowers. If you'd rather do this type of community service with a group, join one of the amazing civic groups shown on the 4th Street planter sign. If we all just give a little time and do just a little more, it adds up. The results are noticeable and improve our entire community."
Matt is a member of Pittsburg Beautiful, and received a donation to assist him financially. His costs were minimal as he did all of the supply hauling and labor, including the design and current watering and gardening.
"I'm proud of building this flower bed the right way, without shortcuts.  It would be there for decades, which makes me hopeful that one day my sons will be the ones taking care of it with their children.  Wouldn't that be beautiful, Pittsburg?"
Maria Banuelos has owned her home since 2012, she enjoys caring for her flowers first thing every morning. It is important to her because "it is home for me and my family." She feels that taking care of her property will encourage others to move here and see that "we are a great town" to raise a family!
Josie and Kip have rented their home for four years and Josie spends at least two hours a day working on their property. She loves flowers and is "very picky" about how the yard looks.  She is proud of her home, and feels keeping her property nice "makes our town look so much better," and makes residents "proud".
Thank you all for making Pittsburg beautiful.
Nominate your neighbor!
Pittsburg Beautiful recognizes those in our community who take pride in maintaining their homes and businesses. Send your nomination to Pittsburg Beautiful c/o Pittsburg Parks and Recreation at P.O. Box 688, Pittsburg, KS, 66726. Please include the property owner's name along with the address.