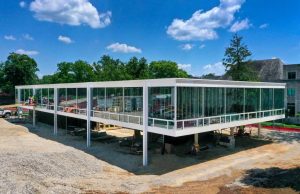 Architecture + Design, Indiana University's (IU) new shared facility for the Eskenazi School of Art, is adopting a rediscovered 1952 design created by Mies for the Bloomington campus.
As adapted for contemporary use by the architectural team of Thomas Phifer and Partners, Architecture + Design is scheduled to open this fall.
After being abandoned for 60 years, the Mies design re-emerged in 2013 when Sidney Eskenazi, a fraternity member of the Alpha Theta chapter of Pi Lambda Phi, informed IU President Michael A. McRobbie of the existence of Mies' drawings for the building.
"We are extremely pleased and excited to add yet another extraordinary building on the IU Bloomington campus, designed by the renowned Mies van der Rohe, one of the greatest architects of the modern era, and reminiscent of many other famous buildings designed by Mies," McRobbie said.
The Mies building is an 18.3-m (60-ft) wide, 42.7-m (140-ft) rectangular structure of thin, white-painted steel and expansive glass, in panes measuring 0.9 m2 (10 sf). Floor-to-ceiling windows wrap around the entire second story, which features a central exterior square atrium giving the impression of transparency through the building.
Much of the lower level is open to the air, with the second or main story elegantly elevated above the ground plane. Architecturally, the building has a strong relationship to both the Farnsworth House and the massing and form of many of Mies' early concepts for buildings at the Illinois Institute of Technology.
IU subsequently found documentation of the project in the archives of the Art Institute of Chicago and New York's Museum of Modern Art. In 2019, IU announced it would realize the 929-m2 (10,000-sf), two-story building–conceived contemporaneously with Mies' famous Farnsworth House and similar in design philosophy and materials. They planned to pay for construction with a portion of a $20 million donation from Sidney and Lois Eskenazi.
"As someone who worked with my grandfather Mies van der Rohe since 1957, I thought I knew all the projects he ever worked on," said Dirk Lohan, grandson of the architecture icon. "But I never heard about this project until Indiana University contacted me about its wish to build this 70-year-old design. After contemplating the request, I and the three other grandchildren concluded this would indeed be a wonderful assertion of Mies' significance as an architect."